The DNA Synthesis Facility provides a variety of nucleic acid types to meet various needs, such as gene fragment synthesis, Gibson assembly and mutagenic scanning libraries, among others.
DNA Synthesis Facility services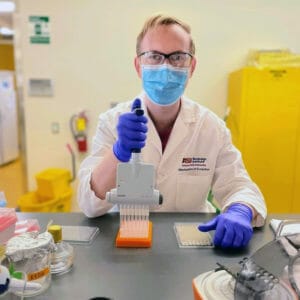 Linear DNA fragments: 32 different fragments can be synthesized simultaneously of lengths 300-1800bp. All DNA fragments produced are processed with proprietary error correction, resulting in the lowest error rates available at 1:10,000-30,000.
Long fragment DNA synthesis: 300-7200bp fragments can be produced; these fragments are also compatible with our automated Gibson assembly protocol.
Gibson assembly: The DNA fragments produced can be taken through our automated Gibson assembly protocol. The protocol supports up to four vectors at a time with either one or two fragment cloning.
Transfection grade DNA: 1-24 DNA fragments of size 300-1800bp Gibson assembled and subjected to RapidAMP amplification will yield more than nine micrograms of transfection grade DNA.
mRNA synthesis: With 1-16 samples at a time of size 300-1800bp will yield 1-10 micrograms of mRNA. Includes poly-A tails.
Barcoding and protein scanning libraries: Essentially no upper-limit as to the amount of variation found in the sequences through the use of IUPAC nucleotide coding. Minimum size of fragments is 300bp.​
Instrumentation
Codex DNA BioXp 3200
How to order
First, create and place an order with Codex DNA before submitting to the DNA Synthesis Lab.
Orders from Codex should be shipped to:
1001 S. McAllister Avenue
Biodesign Institute Building A (BDA)
Tempe, AZ 85281
ATTN: Stikeleather MC BDC436
Completed orders, or Gibson-ready vectors can be picked up or dropped off from:
Biodesign C430 Linear Equipment Freezer
Biodesign Institute Building C (BDC)
797 E. Tyler St.
Tempe, AZ 85281
Contact
For questions about this facility, please contact: